Twinsen is back !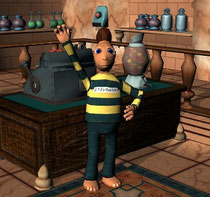 What is it all about ?
It's a game by Adeline Software developed in 1994 (with an even better sequel in 1997) that takes place on the planet Twinsun (Model and background from the Magicball-Forum)

A lot of folks is involved (click to enlarge):

Nowadays, several Fan-Projects are under development, e.g. the Little Script Adventure (LSA) founded by David  (Model: "citadel_nearpharmacy" and seagull).
Some Twinsen animations (made by Horadrim) were transferred to iClone-, DAZ-, Game- and Makehuman characters. Video made in iClone 5 Pro using Toonshader.

Thanks to 3DXChange 5Pro Twinsen is now able to adapt also to other motions:
(Model: Imperial Hotel [Otringal] extracted with the Perspective Map Viewer).
Character from Arteria, LSA (see above) and iClone - Video in iClone 5 Pro.